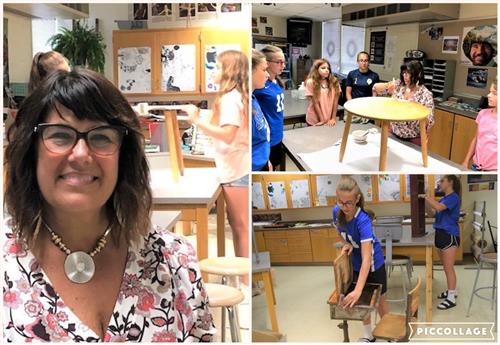 Lynn Yocum, SLMS Art Teacher
by Ricki Stein, Community Engagement Coordinator
Who could ask for a more fulfilling career than a person who shares her personal passion for art with children? Long-time Southern Lehigh Middle School Art Teacher Lynn Yocum said she would not have become a teacher if it wasn't for art. She earned a Bachelor's degree at Millersville University in Graphic Design, her art teaching certificate at Kutztown University, and two Master's degrees (Technology Education and Teaching Strategies) through Wilkes University.
"I can't do the same things over and over," Lynn said. "I need variety. I have to learn something new, then I teach it to kids."
Teaching art allows Lynn the self-satisfaction of potentially inspiring students to create a wide variety of projects outside of school and in their future. Because SLMS no longer offers wood and metal shop classes, the art room is the main location for students to learn to use hands-on, real-life tools and materials, including rulers, pencils, brushes, sandpaper, paint, clay, scissors and Exacto knives. Over the course of seventh and eighth grades, students learn drawing, painting, graphic design, digital drawing, print making, ceramics, and photography.
"They learn the creative process," Lynn said. "There's brainstorming with sketches and design. For every project, kids have to develop a plan of attack. I want them to find their visual voice. Not every kid can draw. I put out all the materials and they can choose how they want to build a project."
Lynn explains to students how they can extend the value of each project through entrepreneurship. "They could blog about their work. They can sell it. In their future, they can make money or extra money through their art."
Lynn's house is full of her artistic endeavors. She enjoys refurbishing furniture and accent pieces. During a recent "Rehab to Refab" Activity Period class, she showed students how to clean, sand, and milk-paint the furniture they brought in from home. One seventh grader found an old school desk in her basement that belonged to her grandfather. She planned to modernize it by painting it black and adding a Day of the Dead graphic on the inside. Another student removed shelves from a structure to turn it into a wall piece on which to hang necklaces. Other students were sanding and painting tables and dressers, with lots of drawers!
"I like the idea of repurposing and reusing things," Lynn said. "Some of the old furniture is better built than the modern stuff. This activity allows students to incorporate design into making something they and their family can use and display. One of the girls designed a beautiful mandala [graphic symbol of the universe] that she's going to paint on a table."
Lynn feels fortunate that she has had the freedom during her 28.5 years of teaching (20 years in Southern Lehigh) to plan her curriculum in coordination with other art teachers. They incorporated National and Pennsylvania Art Standards, which help students establish big ideas, personal choice, materials and learning styles. Kinesthetic students, for instance, adapt well to using clay and building structures.
"Through our curriculum, I'm teaching students to be self-directed," Lynn said. "I feel like I've had success with kids over the years because I let them explore. It's like a three-ring circus in here all the time! One kid might be sitting here building a sculpture while the kid sitting next to her is painting. I want them to explore with all the media. So what if they make a mistake? That's part of the creative process. The kids come to understand that I want them to celebrate what they're doing. While I'm working with a group of kids on one side of the room, I often look up to see kids helping each other learn how to do something on the other side of the room."
Life in the art room has evolved over time. At one point, Lynn taught students Photoshop on desktop computers, then on iPads. Now each student has a laptop, so she had to adjust her approach to teaching photo editing. Her eighth graders worked in groups of four to design a food truck in a project that incorporates teacher Tara Walter's Family and Consumer Science cooking classes. When their projects are complete, students will present menus and marketing plans.
"Nothing is stagnant in here, physically or mentally," Lynn said, noting that she rarely sits down all day long as she moves around the room to work with students. "Kids are kids and I've come to understand them better over the years, but we've all changed."
Lynn is rarely stagnant when she goes home. She constantly dabbles with interior design, including redecorating her house. She and husband Bob are considering flipping houses in the future. Bob teaches Engineering at Parkland High School, where he is a Master Teacher for Project Lead the Way. He trains other teachers around the country, as well. Daughter Gabby works as a social media marketing specialist with Nestle. Gabby specifically creates advertising for Coffee Mate and Nesquick at the company's headquarters in Arlington, Virginia, where she lives with her husband, Tommy, a police officer in Fairfax County, Virginia. Lynn's son Brady went to DeSales University to become a physician's assistant. He works in the Emergency Room at St. Luke's Allentown.
Over the years, Lynn has collaborated with a multitude of teachers and community professionals in after-school activities. In one project called Urban-Suburban Art and Writing Project, she and SLMS teachers and students worked with the Penn State-Lehigh Valley Writing Project and Allentown School District teachers and students. Students made art and wrote stories and poetry in their home schools, then met to share and celebrate their work.
"Working at Southern Lehigh has allowed me to be creative," Lynn said. "I had to prove myself, but then, administrators have respected me and been more than generous with curriculum and materials. My advice to young teachers is to be a lifelong learner about your subject and how it matters to society and children. Follow trends. And learn self-care. That's my next goal."